Best Gay Sex Dating Sites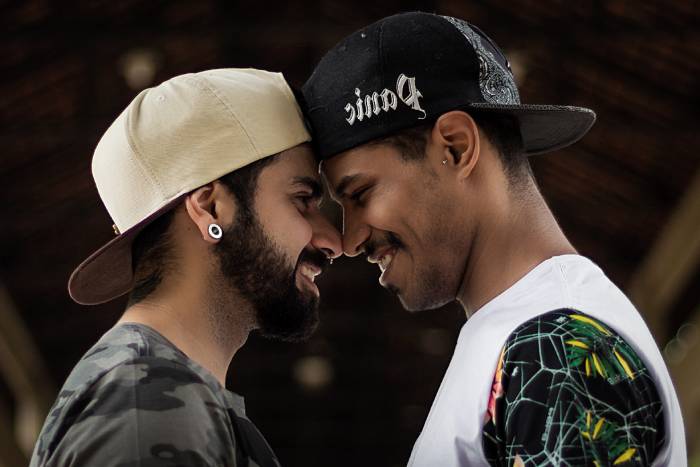 Who doesn't love to get laid, right? Many guys spend a lot more time thinking about it than actually hooking up, but that doesn't have to be the case. Using the gay sex dating sites below, you can find a hunk for the night or a sweetheart for a while! After all, great sex is key to a successful gay relationship, so you'll want to make sure any potential partner is good in bed before you commit. Check out these five dating sites, pick the one that aligns most with your relationship goals, then sign up to start meeting men today!
HookupDaters.com
If you're looking to jump online and meet someone for sex right away, then you certainly can't go wrong with HookupDaters! This popular dating and hookup site caters to both gay and straight members, so while you may have to look through the options a bit closer than on other sites, you certainly won't run out of potential hookup partners. Free members are a bit limited but can still send up to five messages per day, which should be enough to get the ball rolling. For unlimited messaging and additional perks, membership will only set you back $19.29 per month
Adam4Adam

If paying for things just isn't your thing, then Adam4Adam may be just what you're looking for! Chat with over ten million gay men on this popular dating app, connecting for everything from serious romance to casual sex. Chat is something you can do entirely for free, so finding a gay man to hookup and have sex with won't actually cost a thing! However, this dating site does limit the number of conversations you can have as a free member to 20, so if you plan on talking to a lot of different guys, you might want to consider becoming a paying member (which costs $6.67-$20 per month).
Planet Romeo

Planet Romeo is another popular gay dating site that can be used for dating, casual sex, and more. Available for use in six different languages, Planet Romeo has over six million members from around the globe. The site is specifically for gay, bi, and trans men, so you won't have to worry about messaging a straight guy on accident. Chat is a free feature, along with adding friends, browsing, and more. Planet Romeo supports itself via ads, but if you don't want ads, membership is $10.11 or less per month, which is very affordable compared to similar sites.
Hornet

Claiming a large user base of over four million gay men, this unique dating service combines online dating with social networking to create a site that allows you to make friends and find sex using your computer (or the mobile app). Like the previous site, it's primarily ad-supported, so this may take a bit of getting used to since the site has a lot of ads. Still, free members can send messages, use the search feature, and perform other basic site functions without needing to pay the $9.99/month membership costs.
Scruff

If you prefer a mobile-only gay dating experience (it can't be used on a desktop), then Scruff is another option. This fun app allows you to message other members for dating or sex without even needing to match; you simply shoot them a message via the free gay chat feature! Membership for an ad-free experience costs $14.99/month, but unless you want to see up to 1,000 guys nearby, it's not really necessary. One unique feature it offers is the "responsiveness insights," which lets you know how likely someone is to respond before you send them a message.
How to Start Hooking up With Other Gay Men
Chances are, you already know one way: just wait until it happens! Of course, this isn't a very reliable option and certainly doesn't work if you want to get laid right away. Generally speaking, there are three different approaches people when trying to meet up for sex:
Hoping for the best – Trying to meet other gay men for sex by chance in real life requires a lot of effort. You'll need to frequent bars and clubs often, flirt with many different gay guys, and even after all of that effort, you may not get laid! This isn't a good approach for dating, so it's not a good approach for trying to find gay sex either. Consider a more efficient option instead!
Use a dedicated sex dating service – This gives you your best chance at success. The gay men on these dating sites are also looking to get laid, which means they'll probably be willing to meet up if you shoot them a message. Dating sites also show you all the gay men in your area, meaning you won't have to figure out if an attractive guy is gay or not before making your move.
Online – Thanks to the internet, there are a bunch of different places you can meet other gay men online besides dating sites. Many people connect via social media, and some relationships even start through online video games! Unfortunately, since these platforms aren't intended specifically for sex dating, it will take a lot longer (and require a bit of luck) to find a match. You're much better off just using a dedicated service instead.
FAQ
How Do I Pick the Best Gay Dating Sites?
Before you can choose which gay dating site is best for you, you'll have to figure out exactly what you're looking for. Do you just want sex? If so, then a hookup dating site like HookupDaters would be perfect for you. Are you searching for a real romantic relationship? In that case, Planet Romeo could be a good option. Not quite sure? Adam4Adam can help you find both sex and dating partners, which is the best of both worlds! The dating platform you choose should reflect what you're looking for, so don't go on a hookup site and try to find love (or a serious dating site for sex).
You'll also want to consider the user base and features that each dating site offers. Different people join different services, so a larger user base doesn't necessarily mean hotter guys, just more options. If you usually use your computer to access the internet, then most of the above options should work, but if you're usually on the go, you'll need to choose something with a mobile app.
What's the Best Way to Hook up With Other Gay Guys?
Without a doubt, the best way to hook up with other gay guys is on a dedicated gay sex dating website. You can still find sex on multi-purpose dating sites, but not everyone you're interested in will want to have casual sex. However, if you stick to only using hookup sites, everyone is looking for a good time, so you'll be able to have a good time without worrying about hurting someone's feelings.
There are many different options when it comes to online gay sex dating, so don't feel limited to just the sites above. If none of the options so far seem to fit your needs, then head over to GaysBonding, where you'll find a bunch of other sites and services to try!