Bromodates Review
Overview
This site seems to provide precisely what users are looking for – men seeking men: Unlike most popular dating sites, it caters solely to gay-oriented unions. It's easy to afford for any user on a budget, and the free option lets singles glance through pictures seamlessly. This website allows users to upload videos on their profiles, so it quickens the sex-search process. You can also add info to your profile like what you are looking for, your physical traits, possible vices, and ethnicity and tribe. Perhaps the best feature of this gay online dating site is the use of emails to verify accounts and request a 3-day free trial.
Check Out Our in-Depth Bromodates Review
Looking for the best gay dating site? Want to match with someone in your area today?
Bromodates is a dating site aimed at gay and bisexual men. It's free to join but with membership features. It allows you to find and message gay men in your area – and all you need to start with is an email address.
But is Bromodates worth your time and effort? We take a look at the dating site's best and worst features to help inform your decision.
Overview
Bromodates has a simple, unique design that sets it apart from many other gay dating sites.
It's quick, easy, and free to join, and profiles have several detailed fields you can fill in about yourself. Almost immediately, you'll be matched with single gay and bisexual men in your area.
Several search features and matchmaking services on the site help you make meaningful connections quickly. You can break the ice with flirty automated messages, like profiles, and send/receive pictures in private chats.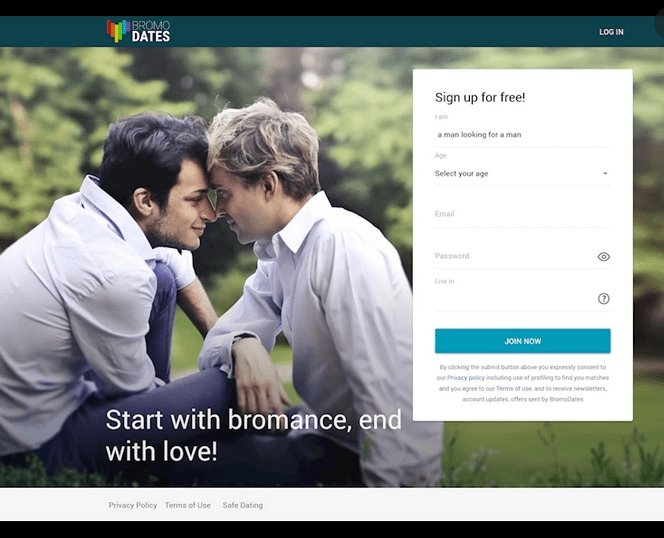 Facts and Figures
Members: Over 50,000 members from the UK
Best for: Gay, bisexual and curious men looking for friendship, romance and online dating.
Recommended age: The majority of users fall into the 18-32 category and identity as twink, clean-cut, or bears.
Pros and Cons
Pros / Cons
Signup is quick, easy, and only requires an email address
Active and has a variety of users from different age brackets & backgrounds
Fill in and update your dating profile at your convenience
Instant messaging in real-time
You can block and report profiles
3 upgrade options, including daily, monthly, and every 3 months
You can sort profiles by popularity, distance, and online now
Filter searches by body type, ethnicity, and if they have photos/videos
Send 'flirtcasts' to lots of people at once
No identity verification options
No incognito mode
You can only send 5 messages daily on the free plan
No personality tests to match with men
No mobile-app
No incognito mode available
Users are notified when you visit their profile
Restrictive profile – no options to add a bio, interests, or additional information
No customer support Live Chat
Only one method of payment (VISA)
Members
Bromodates is a gay dating site used by a wide variety of men, including of different ages, ethnicities, and more. The default search functions and categories on the site are set to Age: 18 – 32.
Free VS
.

Paid Features Review
Free features include:
Setup and fill in your profile
Update your status
Upload photos and videos
Send 5 messages per day to members
Like/favorite profiles you view
Match with profiles
Notified when someone views your profile
Paid features include:
View member's full profiles, including pictures and videos
Reply to someone's else's first message
Unlimited search results
Unlimited messaging
Making Contact
It's very easy to make contact with and connect to gay men on Bromodates. When you find a profile that you like, simply click the 'Chat' button to send them a message.
If there's something on their profile they haven't filled in, you can 'ask to add' the information. You can also ask them to add more photos to their gallery.
Finally, you can also 'like' their profile. Users will receive a notification if you send a message, view their profile, or like them.
FAQ
How to become a verified member?
The only thing you need to create an account on Bromodates is an email address. It does not currently have a verified member status option.
Is Bromodates safe?
Bromodates does not conduct any background checks or identity checks for profiles. For this reason, it's advised that you protect yourself and your information at every stage of using this dating site.
Bromodates does not monitor the content of the site, however, if they receive a complaint, they have the right to remove said content. As per their privacy policy, they also reserve the right to use your dating profile on partnered websites, including for advertising and marketing purposes.
Bromodates uses location data to show matches in your area.
Bromodates does have some advice for setting up your profile, including:
Share photos on a case by case basis
Use the 'ask for more photos/information' feature
Report a profile you feel is suspicious
Safety features:
You can block and report members
You will be notified when someone views your profile
What is Bromodates? Who uses it?
Bromodates is a gay dating site aimed at matching you with single gay men in your area. While users can be of any age or background, Bromodates is primarily aimed at the 18-33 age bracket.
Is Bromodates Free?
You can register and create an account for free. However, there are limitations, including sending only 5 messages per day, limited search functions, and you cannot view picture galleries or videos in full.
There are 3 premium membership plans, including daily, monthly, and 3 monthly. Premium membership allows for unlimited messaging and extended search functions.
Our final verdict
Bromodates is one of the most active online dating sites you can join. It's quick and easy to get set up, and you can begin matching with gay men in an instant.
While free features are very basic, a premium membership is both affordable and flexible – you aren't into a long-term contract.
However, because of how easy it is to create an account and no verification process, we advise you should always be on guard with who you are talking to.
Functionality – 3 stars
Value for money – 4 stars
Privacy – 1 star
Membership – 3 stars
CTA – Try Bromodates for free today. Visit bromodates.com!

To The Site