Pink Sofa Review
Overview
Members: 100,000 from USA
Members activity: 4,500 new members per month
Finding a person sharing your sort of attraction can be difficult. For lesbians and bisexuals, PinkSofa.com has unlimited opportunities to find an ideal dating partner even if you are over 30 years of age.
Unlike other lesbian dating sites, this one makes it easy for women to connect with other women and make their dating life more interesting. With about 435,00 profiles to search through Pink Sofa increases your chances of finding a suitable partner. Create an account to spice up your love life with either a one-night stand or find someone you can dedicate your entire life to with PinkSofa.com.
Pros and Cons
Pros / Cons
Supports live chat with other members
The site is simple and well-managed
The free search mode allows you to find new members along with those who are near you
Quick and advanced search options
The registered member can search through member profiles
It does not have any mobile app
Message sending and receiving option available for premium members only
No way of checking the authenticity of the accounts
Lack of customer support
No video chat
Member Structure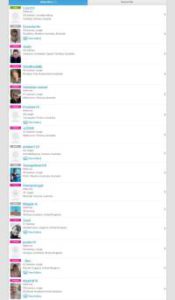 If you live in the UK, US, and Australia, Pink Sofa will connect you with a beautiful bisexual woman to date.
With the basic version of PinkSofa.com, any lesbian can go through the search engine, utilize the basic search features, and find a suitable match. Besides, the site supports lesbians, including butch, femme, lipstick lesbian, etc.
Sign up And Login Process
Coming to the signing-up process, which I found to be quite straightforward. Although the site has about 14 fields on its registration form, the requirements are pretty basic.
The first-time users need to create an account by going through the 3-step signing-in process. To register their profile on PinkSofa.com, you have to give in a username and a password along with an email and other necessary details. After agreeing to the terms and conditions below, you have to upload a picture showing how gorgeous you are!
It also welcomes members 18 years of age, but the site requires personal details, including hobbies, income, interests, and occupation.
People trying to log in through their smartphones need to register either through their Facebook or email accounts.
It takes about 12 hours to get your profile registered on Pink Sofa. In the meantime, you can enjoy searching through the profiles on this lesbian dating site and see if someone might spark your curiosity!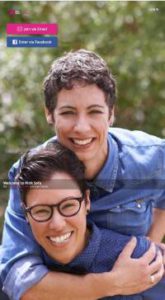 Profile Creation on Pink Sofa
You will really enjoy setting up your profile, as here you are invited to discuss yourself and your life openly.
The simple layout of Pink Sofa lets people express every tiny detail about themselves. From their star sign to mentioning interests and employment, the profile allows you to depict who you truly are (if it's honestly written).
The "My Life" and "More About Me" sections can be a resume of your life, allowing someone of your caliber to reach you before next Valentine's Day!
Making Contact At Pink Sofa
Initiate contact with someone you like by sending her a smiley and be patient and hopeful that she will respond to your message.
With the basic free account, you can only send a smile and hug to someone you feel attracted to. Besides, you will see which members are online and new members who become a part of this dating platform. Something that I found interesting was that even with the basic version, you could find someone within your living distance.
But to enable messaging and chat, you must have a premium account. With the subscription, the account comes with an advanced search feature to set customizable search options to find a match based on your preferences. You can also save this search criterion from being used later on.
With a fee-based account, you also get the option of liking and commenting on member profiles.
Is there more? Well, yes!
You get to join the Forum where you can openly discuss with your fellow lesbian and see if your thoughts concede with one another.
Pricing Plans
You had a 3-day trial period. After which, you can subscribe to any of the following premium plans.
1 Month Plan > $35 for 1 month
3 Month Plan > $21.67/month
1 Year Plan > $10.42/ month
The 12-month plan is non-recurring, meaning it will not re-subscribe on its own like the other two plans. The 1-month and 3-month plans will re-subscribe unless you have turned off this setting.
Pink Sofa Special Features
Some extra features on a dating website always double the fun. Pink Sofa doesn't just limit you to sending smiles and creating an engaging website.
Some notable features within the app include the following:
Create a gallery by uploading your photos letting other members see how lively and energetic you are.
Use The Forum to reach out to members sharing your vision. Who knows, this may lead you to your soulmate.
Send a gift subscription to someone who is regularly smiling at you.
The "New Search" option locates new members.
Security And Support
Pink Sofa has all the basic security and support functions. You can hide your online status, control who can see the status of your photo, block someone who is passing you nasty comments, or block someone who doesn't sound interesting to you. Users can report spam and fake accounts to Pink Sofa's support staff as an added layer of security.
Experts Conclusion
If we ignore the fact that there is no way to confirm the user ID Pink Sofa is a pretty impressive lesbian site where women can freely and comfortably meet other single women ready to mingle. With an 8 out of 10 ratings, the site contains all the basic features and advanced chat options, allowing you to express deep feelings and emotions, get in touch with lesbians and gays from all across the world, and get yourself a compatible dating partner.
FAQs
Is Pink Sofa Safe?
Pink Safe is considered safe to be used by lesbians looking for a perfect date. The data on Pink Sofa is transferred using the SSL connection, making it secure for the users creating profiles on the site.
How to Use Pink Sofa?
There are two versions of Pink Sofa: The free version and paid version. With the free version, you get to enjoy limited features besides having no option of sending and receiving messages. So, to have an interesting dating experience, the premium version is better, which allows you to mingle and be more active.
Can I Use Pink Sofa Anonymously
To use Pink Sofa, you need to register as a member. Without a profile on the site, you can't see, comment, or communicate with other members, making it impossible to find a soulmate. You can upload private photos or allow limited members to access your profile, but there is no option for complete anonymity.

To The Site