Myhornyboy Review
Overview
This site seems to provide precisely what users are looking for – men seeking men: Myhornyboy is a gay and bisexual dating website, which shows you the profiles of nearby single men in your area
Myhornyboy Review: How To Sign Up? Is It Worth It?
Myhornyboy is a gay and bisexual dating website, which shows you the profiles of nearby single men in your area.
You can send and receive messages, send flirty ice-breakers, and search for specific types of men on this site. It has a very active userbase with men of all ages, body types, and preferences.
You can search for bisexual men, but the majority who use this site are gay. As one of the most popular gay dating sites online, let's first weigh up the pros and cons of using the site.
Overview
With a sleek user-friendly design, Myhornyboy is both easy and fun to use. After a quick signup process, you'll be shown hundreds of gay men in your area, all looking for the same thing as you.
Making matches is easy thanks to an innovative 'Like Gallery,' and you can send and receive messages, share pictures and videos in chat, and more.
Perhaps the best thing about MyhornyBoys is its members, each of whom has detailed profiles and is active regularly throughout the week.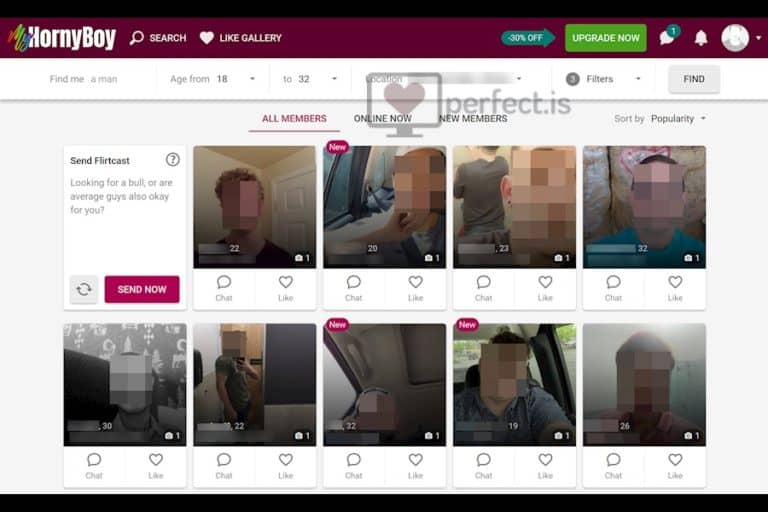 Facts and Figures
Members: Over 50,000 members from the UK who are active throughout the week
Best for: Gay, bisexual and curious men looking to date and have casual fun with younger men
Recommended age: There are two sections of members who use this site. Young men aged 18-32 who identity as twink, and 50+ who identity as 'Daddy.'
Pros and Cons
Pros / Cons
Very active members online
Setting up an account is easy – you only need an email address
Choose a tribe for your profile, e.g., Twink, Bear, Clean-cut, and more
Variety of filter options when searching for dates
Sort profiles by distance, who is currently online, age
Affordable premium price plans with no long-term commitment
Block/report profiles
Send 'flirtcasts' as ice-breakers to groups of people at the same time
See newly created profiles in your area
Can 'ask for more information on anyone's profile
Has a mobile version
No verified member status
Myhornyboy.com will appear on your bank statement
As a free member, you must 1 hour before you can read messages
Send 5 messages daily on the free plan
Must upgrade to see full pictures in profiles
Limited profile space to include interests or detailed bios
No mobile-app
Privacy concerns
Free VS. Paid Features Review
Free features
Below is a list of features that are free to all users on the site.
View nearby profiles
Use filters in your searches
Get notifications in real-time
Send flirtcasts – flirty messages which go to many users at once.
Upload photos to your profile
Match with and like profiles
See who has viewed your profile
Send 5 messages per day to members
You are notified when someone views your profile/messages you
Paid features
Paid features are unlocked once you subscribe to a payment plan.
Read and reply to messages in your inbox immediately
View people's full profiles, including images and videos
Unlimited search results
FAQ
How do I become a verified member of Myhornyboys?
There is no verification process on Myhornyboys. The only thing you need to have to create an account is a valid email address.
Whilst all members have a profile picture to be included in search results, there is no verification of identity. For that reason, it's always advised to be vigilant when sending messages to a profile you feel is suspicious.
Who Uses Myhornyboys?
Myhornyboy is a relatively new dating site at just 2 years old. Members come in all age ranges, sizes, and backgrounds. However, the site is geared towards 18-36 year-olds in particular.
Many users who choose a 'tribe' for their profile identify as either 'twink' or 'clean-cut.'
Is Myhornyboys Safe & Secure?
With no verification system, anyone can potentially create an account on this site. And from examining their privacy policy, there are several things to be mindful of.
Your profile picture may be shared for both advertising and marketing purposes by Myhornyboy and may also be copied onto partner sites to maximize matchmaking potential.
The site uses location data to match nearby profiles with you and collects location data in the form of your computer or mobile's IP address.
If you are connected to the site through your social media, your profiles may also be collected. The site also says it reserves the right to post updates on behalf of you, including location data. These settings can be turned off.
The site also says it may moderate and monitor photos and videos shared through messages between users.
Our Final Verdict
Myhornyboy has a large of users despite only being in operation for a few years. It is both quick and easy to join and could be the perfect introduction to gay dating for you in your area.
Free features such as messaging can give you a taste of what the service is like. Upgrading membership is affordable, and there are 4 flexible plans from which to choose from. We also like that you can cancel at any time.
However, several privacy issues must be taken into consideration before creating a profile on Myhornyboy. Your profile may be shared on partner sites. Messages, pictures, and videos may be monitored. And your location data can be stored.
Finally, with no verification process in place, users should be cautious when talking to suspicious strangers. Always ask for additional information, keep your information safe and secure, and use the block/report function when needed.
Functionality – 2 stars
Value for money – 5 stars
Privacy – 1 star
Membership – 3 stars
CTA – Visit www.myhornyboys.com for more information.

To The Site